Woodstock Trading Company - Shipping & Handling
Woodstock Trading Company takes great care in hand selecting your order from our stock. We ship orders to anywhere in the Continental U.S. using UPS Ground.
We charge a flat rate fee of $8.00 for shipping and handling - no matter what your order size or amount.
OUR SPECIAL WAY OF RECYCLING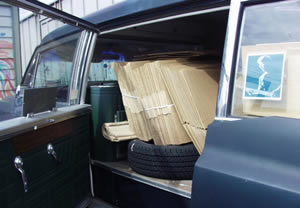 Once we have assembled your order items, our Woodstock staff heads to the hearse for packaging to protect your order for shipment to you. We store our new & recycled boxes in this 1968 Cadillac Hearse, which is one of our two hearses. The other being a 1948 Cadillac.
Both hearses are on display at our Cherry Hill NJ retail store. Both vehicles are waiting to be restored. So until then, we use them as storage.
We use recycled packing materials as filler in the packages.
We re-use cardboard packaging and containers when they are in like-new condition.
MOM SAYS...
"I place a small personal gift inside every order ."